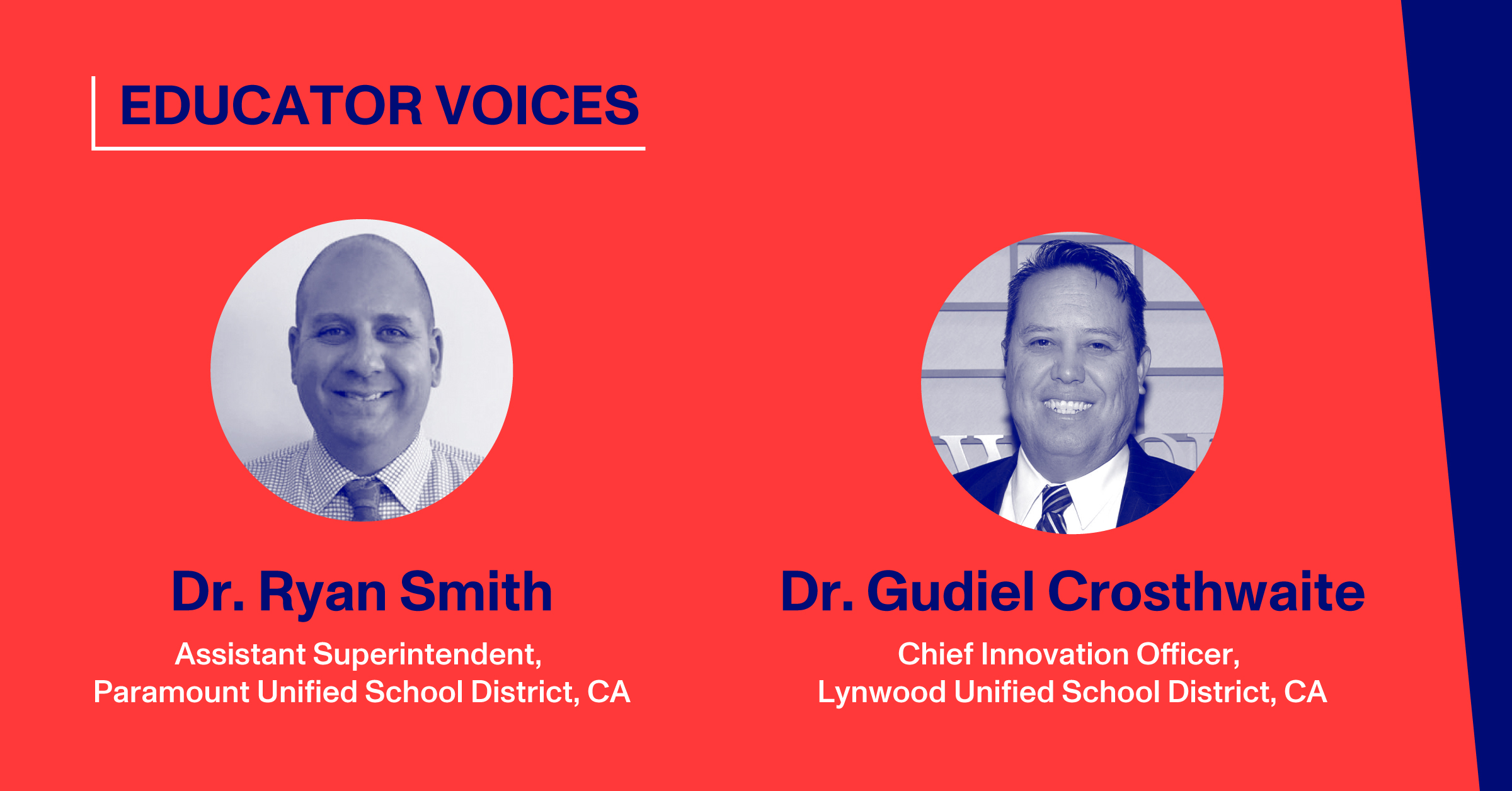 5 Questions With Paramount & Lynwood Leaders: How These Neighboring CA Districts Are Addressing Community Gaps
November 18, 2020
On November 17, Paper hosted a discussion at the 2020 CITE Annual Conference with Dr. Ryan Smith, Assistant Superintendent of Paramount Unified School District, and Dr. Gudiel Crosthwaite, Superintendent of Lynwood Unified School District.
Moderated by Dr. Matt Rhoads, ed Specialist, researcher, consultant, lecturer and writer, the two district leaders shared how their neighboring districts are:
This discussion has been edited for length and clarity.
1. What gaps in your school communities have been highlighted since the pandemic?
Dr. Ryan Smith:
When we shifted to distance learning, we learned that our students in K-2 and our adult ed students weren't connected via technology. Today, I'm proud to say that we are 1:1 in K through 12, and we've made some significant inroads with making technology accessible to our adult students.
Also, gaps in internet access at home became more apparent. Our partnership with the Sprint 1Million Project was providing Wi-Fi access to high school students, and we worked with them to provide access to students in other grades.
Dr. Gudiel Crosthwaite:
We sent out many surveys and asked parents if they have a device and internet access at home. Overwhelmingly, parents said yes. This didn't sound right to us, but then we realized that their device at home was a cellphone, and their internet access was a hotspot. So, we distributed over 10,000 Chromebooks to our students, purchased over 3000 hotspots, and we gave each of our teachers two devices.
We also quickly established a hotline; we set it up with live social workers who can answer calls and refer them to our collective of over 30 agencies. From March to the summer, we supported over 800 families with these services.
Finally, we had a food pantry for our homeless that, pre-pandemic, was serving about 50 families. We collaborated with the sheriff's department, Lynwood City, and two of our local churches, and we quickly expanded the food pantry to serve over 600 families.
2. How are you developing technology literacy for your teachers & your greater communities?
Dr. Gudiel Crosthwaite:
We started with five days of PD before the school year started with our staff. We also brought in our classified staff to ensure that they were aligned to the training that we were offering to our teachers. We have a weekly workshop for our teachers every Tuesday afternoon, and typically, we get over a hundred teachers.
We realized that we also have to reach out to the guardians and the grandparents—the folks who are actually with the kids during the daytime. We have a calendar accessible online or via phone where parents and guardians can see the upcoming workshops that we offer in English and Spanish.
We also developed on-demand webinars in English and Spanish.
We now have 17 digital coaches—almost one per school, and that's additional support for our teachers, parents, guardians, and the kids during the day and after hours. We're realizing that kids might have a grandparent who's at home with the grandkids. They may be able to navigate Facebook and Candy Crush but may struggle with connecting via Zoom. I know that through these efforts, their capacity is definitely increasing.
Dr. Ryan Smith:
We've taken a similar approach at Paramount. Early on, we tried to figure out how we would keep our teachers and staff connected. And one important thing that helped us do that was having broad usage of our LMS. We also quickly set up a distance learning website for our staff to put as many resources as possible. Like Gudiel, we provided weekly webinars for all teachers and staff.
We also tried hard to focus on what we have known and what is best for our kids at Paramount so that we're not overwhelmed with all the tech offerings that are out there. So that would be things like our LMS, Google, Office 365, and then a few special partners like Nearpod, Paper, and Khan Academy.
We instituted something called Tech Tuesdays, where every week we had a live webinar that parents could tune into and access later on YouTube. We also asked each of our school sites to do something at the site level around instructional technology monthly. Now, we shifted our focus again because we also have to make sure socioemotional needs are met. So now we switched from Tech Tuesday to Wellness Wednesday to provide those resources to our parents.
3. Will instruction change once the pandemic is over?
Dr. Ryan Smith:
My sincere hope is that we certainly will change our practice moving forward. There have been surveys that show most parents think it's time to rethink education. They like flexibility, and they're embracing online coursework. As educators, we need to realize it won't be business as usual when we eventually return to our classrooms.
We need to make progress around personalized learning. Often, when we talk about it, we talk about doing some things differently for each kid, but by and large, every day lockstep instruction doesn't look a whole lot different class to class, kid to kid. If we're truly going to personalize it, that means we have to know each and every individual student and tailor their experience to their needs.
I think we're going to continue to look at competency-based and skills-based instruction and how we go about assessing it and teaching it and implementing it pedagogically.
Along with it is how we personalize support.
I talk to many parents who all say the same thing: "My student needs this, and I don't know how to help them. My student needs this at this time, and there's no one there to help us." And so a tool like Paper becomes invaluable because it's given us the ability to provide resources and support 24/7.
Dr. Gudiel Crosthwaite:
We have to use this time to reflect on our practices: How do we collectively work to change the behaviors that we see in the classroom? I think the use of videos and other tech tools will continue post-pandemic, and I would like to make sure that we do a better job at engaging students. We've developed videos for our K-8, and the teachers love them.
Our board made individualized learning plans a priority for us this year. How do we make sure that students are supported through individualized learning experiences that address and capitalize on their strengths and areas of improvement? How do you use data in a more meaningful way?
I would also love to see more of our students take advantage of the opportunities they have available through community colleges. We want to encourage every kid to take a college course before they graduate high school. We want to build up their confidence and help them see that there are other options out there for them.
Also, we've been attacking grading practices for five years. This is the year that we're going to pass a resolution. Of course, we've seen an increase in the number of students getting a D or F, particularly in Math and English. So we've got to do better.
We've got to make sure we're not penalizing kids for not having support at home. We've got to make sure we're loving kids and not using grades or homework as a way to kill their spirit. We got to build them up and raise them and make sure they dream big and have hopes for their future.
We're using this opportunity to reflect on our own curriculum and ask ourselves what we can do to enhance our curriculum to ensure we have other perspectives and narratives. We're engaged in these conversations with our students, families, and staff. I'm proud to say that last week, our school board unanimously adopted a resolution that recognizes Indigenous people and Indigenous land.
Dr. Ryan Smith:
As everyone knows, in education, we tend to stay the same and not change. It's really going to take a coalition of the willing at all levels and districts and communities to remain committed to keep this work and those kinds of changes moving forward. And the stakes have never been higher for public education in particular. Parents are gravitating to charter schools, private schools, and homeschool options. So as public districts, we have to continue to evolve.
4. Have you focused on integrating SEL within your curriculum?
Dr. Gudiel Crosthwaite:
We've provided some training, but it's not enough. We've got to make sure that all of our adults are equipped to identify and provide resources, support, or refer students elsewhere. We've got to lead with empathy, listen, and make sure that we're there to provide the support needed and check-in with students to see how they're doing.
Dr. Ryan Smith:
We have an SEL curriculum that we started implementing a year ago in grades K-8 and soon in high school.
One thing that I'd like to point out that we think has made a big difference is that we've hired social workers in our schools here in Paramount. We think that the social worker's role is very different from a traditional school counselor's role, and they really should complement each other.
We have a partnership with the Los Angeles County Office of Education through their Community Schools Initiative, which provides additional resources to our parents, students, and families. We've also continued to make several outreach efforts with our parents in the form of webinars around SEL.
5. How can school districts sustain changes in K-12 for hopefully decades to come?
Dr. Ryan Smith:

True responsiveness to our community's needs is vital. There has never been a better time for flexibility and options, and it's never going back to the way it was—parents and families want different options for their students to receive their education. Finally, we have to remain student-centered. Students have to be our priority, and their best interest has to be what guides us, not what's convenient for us as educators or administrators.

Dr. Gudiel Crosthwaite:

Often, school districts do a great job of bringing all the adults together, but we forget the student voice. We have to reach out and get their input as well, and emphasize that this is a collective responsibility. We have a wonderful opportunity right here to transform public education.

We're asking our teachers to try to do things that they're not comfortable or confident with, and we have to reassure and support them. We have to do the hand-holding and make sure that they know that they're doing the right thing, that we're not going to penalize them. We've got to make sure that we do it out of love because ultimately, if you want people to change their behaviors, you've got to be there as a coach, as a mentor, as a cheerleader.‌