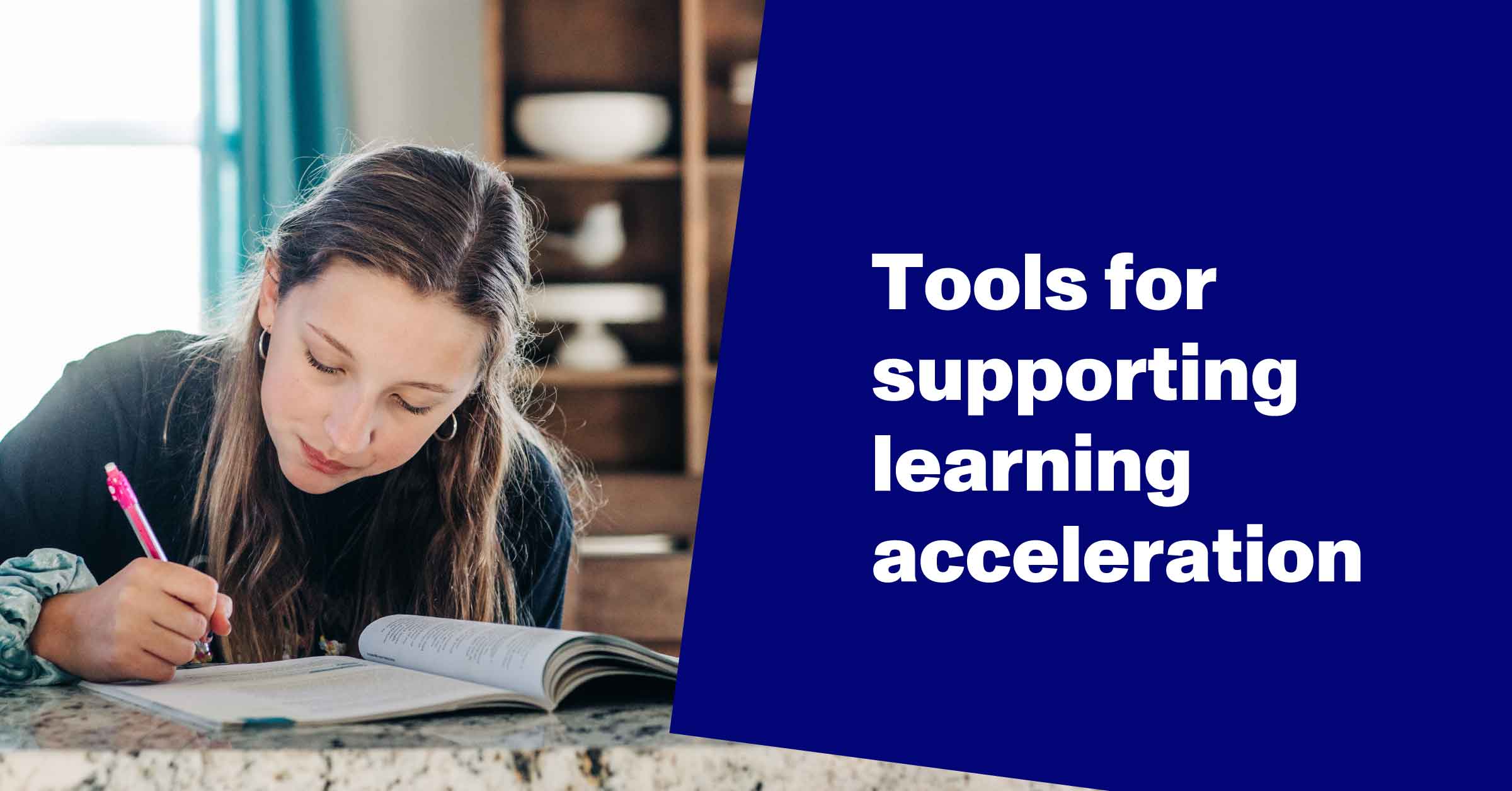 5 accelerated learning examples—plus tips on evaluating solutions
July 12, 2022
In today's educational climate, teachers and administrators often find themselves expanding their skill sets into new and unexpected territories. One example of this phenomenon can be found in the push to implement learning acceleration initiatives.
Accelerated learning has proven to be a popular strategy for addressing issues associated with unfinished learning stemming from the COVID-19 pandemic. In this process, educators provide additional support to help students stay on track to hit grade-level targets.
As schools and districts pursue these objectives, third-party solutions are available to support teachers—and students—in their efforts to accelerate learning.
What is the accelerated learning cycle?
Many learning acceleration programs make use of what's known as an accelerated learning cycle. There are multiple interpretations of this term, but they all emphasize the circular nature of accelerated learning.
The four-step accelerated learning cycle outlined by the National Institute for Excellence in Teaching (NIET) consists of the following phases:
Analyze the benchmark data.
Address the need by focusing on priority content.
Establish groups for accelerated learning.
Monitor and adjust for impact.
The last phase then feeds back into the first. As the learning process continues, so do efforts to assess student progress and to provide varying degrees of support.
What are accelerated learning techniques?
In an Education Week op-ed, Dr. Nancy Frey and Dr. Douglas Fisher of San Diego State University drew on existing research to identify several effective learning acceleration strategies. In addition to emphasizing the careful review of student assessments and the effective prioritization of course content, the authors recommend that lessons be relevant and active while also bolstering student confidence.
These insights, along with NIET's accelerated learning cycle framework, can be used to determine which solutions may best support learning acceleration in the classroom.
Accelerated learning examples: 5 kinds of solutions
Crucially, learning acceleration programs should not be overly reliant on passive experiences, including rote memorization or a dry overview of disconnected facts. Immersive project-based learning experiences—such as this pirate-themed summer math camp profiled by EdSurge—shine a light on how to emphasize academic rigor even as students engage in fun and competitive challenges.
Let's keep such exciting examples in mind as we explore how to use edtech and other accelerated learning solutions to help students thrive. If you're just getting started, here are a few promising approaches to accelerated learning—as well as tips that will help you confidently weigh your options:
1. Assessment supports
As described in phase one of the NIET learning acceleration cycle, effectively analyzing benchmark data to discern students' strengths and growth areas relative to targeted standards is a vital part of the process. As such, teachers may benefit from additional assistance as they learn to use targeted assessment tools and decipher the data.
Keep in mind that learning acceleration strategies zero in on the vital support necessary for students to stay on track for their grade level. This stands in contrast to remediation strategies, in which students may revisit all skills associated with the prior grade level before moving on to new content. As such, learning acceleration efforts could benefit richly from solutions that feature targeted assessment capabilities.
These assessment mechanisms should be standardized and thorough enough to pinpoint learners' abilities. An Education Week article about how to vet learning acceleration solutions cited Dr. Todd Davis, chief academic officer for a Houston-area school district, in specifying that such solutions could offer "a coherent, systemwide approach to assessing students' immediate needs."
2. Assistance with delivering in-depth grade-level content
The second phase of NIET's learning acceleration cycle highlights the importance of leading with learners' strengths. Educators are advised to home in on topics that connect strongly with the preceding and following areas of focus, emphasizing depth of understanding.
Likewise, a core principle of learning of acceleration from the New Jersey Department of Education states that depth of understanding—not pace—should be a key metric for student progress. This state-level guidance also describes how interdisciplinary learning and the opportunity for students to apply their studies to meaningful situations can support a deeper understanding of important concepts.
To help students receive just-in-time support for high-priority grade-level targets—and to ensure they can forge deep connections with their learning—educators can deploy academic supports. Look for solutions that facilitate active participation centered on integrated learning opportunities. For example, the New Jersey Department of Education described a summer enrichment program where students could participate in personally significant program tracks ranging from beauty, apparel, and fitness marketing and entrepreneurship opportunities to civically minded community engagement ventures. At the same time, avoid learning acceleration products that focus on passive, shallow engagement with an overly broad range of topics from the previous grade level.
3. Help with small-group studying
Steps three and four of the learning acceleration cycle from NIET center on how to effectively form and work with small groups to provide varied support based on individual students' needs. At these stages, it's vital that teachers have the help they need to:
Monitor student progress.
Provide meaningful educational experiences.
Offer targeted assistance.
However, as the Learning Policy Institute (LPI) noted in an article about reinventing school through learning acceleration, it's critical to avoid the trap of falling into outdated practices that track learners into rigid, potentially stigmatizing groups based on perceived abilities.
Instead, the authors highlighted comprehensive summer programs developed in partnership with community-based organizations. This strategy shares similarities with the whole-child approach to student motivation in education.
The LPI article also explored how "acceleration academies" can serve as a strong model for implementing small-group learning in an effective and affirming way.
[READ: "4 tips for building out accelerated learning programs in your district"]
4. Ongoing individualized support to build student confidence
As Frey and Fisher noted in the Education Week op-ed, many students are struggling to feel as confident today as they did before the pandemic. When these learners hit roadblocks, a sense of frustration can overtake their ability to persevere while solving a problem. As such, self-esteem and confidence are essential to accelerate learning.
The authors recommend that educators help students rebuild their confidence by providing opportunities for the learner to:
Celebrate wins.
Reflect on their own progress.
Work with teachers to create new goals.
Curriculum-aligned support mechanisms—such as reflection prompts, subject journals, and goal-setting schematics—can help students develop a greater awareness of their own educational journeys and discover how far their efforts have taken them. Furthermore, individualized support can help them persist even when the going gets tough.
5. On-demand tutoring: A valuable resource in the learning acceleration toolkit
In their discussion of student confidence, Fisher and Frey described how students can be too hard on themselves when they feel a concept is difficult.
"Confidence is reduced when you think you're the only one who doesn't understand something," said the authors. "Sometimes, students think that they are struggling more than they are."
On-demand tutoring can help learners by offering positive reinforcement as they progress through a task. Ashley Bebow, a Michigan math teacher, believes in Paper's ability to help students build confidence using this approach.
"When kids use [Paper], they'll typically start with a question, and the tutor will ask, 'OK, what do you think the next step is?' Then, they'll go through the next step. And then the tutor will say, 'That's awesome! What's the next step after that?' The students will end up doing the whole problem themselves, but they have feedback each step of the way, building their confidence level."

—Ashley Bebow, Math Teacher, Hemlock Public School District, Michigan
On-demand tutoring can also be integrated into small-group support and used to help students review prior concepts and new material during learning acceleration programs. Teachers can review data from tutoring sessions to key into student understanding, providing additional information on how to best support learners during acceleration.
A key factor: Building consensus for all stakeholders
Of course, no single accelerated learning solution can serve as a cure-all for the issue of unfinished learning. Edtech solutions are simply one part of an effective multipronged effort to support student achievement. And crucially, teachers have to be empowered throughout the process. That means ensuring district leaders and educators can reach a shared understanding about how to effectively deploy strategies and solutions to accelerate learning within the classroom.
Looking for more information about what it takes to address unfinished learning? Check out our K-12 guide to learning acceleration.