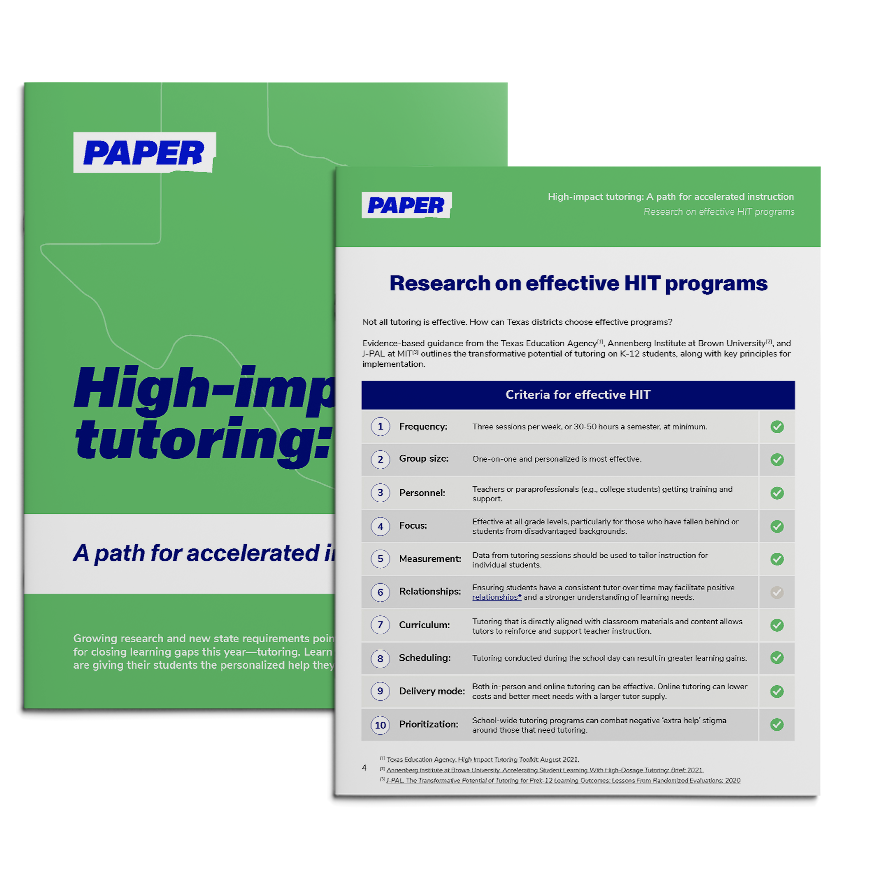 High Impact Tutoring in Texas Districts
A path for accelerated instruction in the Lone Star State.
What's in the high-impact tutoring
Texas ebook?
Growing research and new state requirements point to one key strategy for closing learning gaps this year—tutoring.
High-impact tutoring (HIT) is an evidence-based learning acceleration intervention for all students that need it this year—following their STAAR or EOC assessments—and beyond.

Get state guidance from TEA for district leaders to meet HB 4545 requirements and leverage high-impact tutoring to provide every student the personalized help they need.
Overview of HIT's definition, outcomes, and potential for learning recovery and acceleration
10 key criteria for districts to choose and implement effective HIT programs
Real examples of how districts are implementing HIT and overcoming challenges of cost and scale
Strategies to complement HIT and districts' strategic plans
Evidence-based insights from Annenberg Institute at Brown University, J-PAL at MIT, The Hechinger Report, and more
Let's talk about your goals
Looking to implement high-dosage tutoring at your school or district? We'd love to show you how Paper™ can help make it equitable, scalable, and cost-effective.